Cain and Moore – Trump's Terrible, Horrible, No Good, Very Bad Nominations
Last Week This Morning
10 Year Treasury rebounded to 2.50%

German bund also rebounded and closed out Friday at 0.00%
Japan 10yr up to -0.04%

2 Year Treasury up 0.08% to 2.34%
LIBOR at 2.47% and SOFR at 2.46%
Strong job report on Friday
Rumors of a pending resolution between US and China trade dispute
US and China manufacturing data came in stronger than expected
Trump is now actively pressing the Fed to cut rates and restart QE
Brexit is such a mess it makes Trump's anti-climb wall look like a coherent immigration strategy
Texas Tech looks like a powerhouse in the making while UVA should have lost twice already
Jobs Report
Last month's dismal job report of just 20k was thought to be a weather outlier, and Friday's report seemed to confirm that.
The economy added 196k jobs last month, above the forecasted 177k. The previous two months were also revised slightly higher by a combined 14k jobs. That puts the Q1 2019 average at 180k jobs per month, down from last year's 223k – but still a strong number. And the Unemployment Rate held steady at 3.8%.
Over the last five years, there have been six different months with gains below 100k. The following month experienced an average gain of 240k.
But the data wasn't all good. The number of full-time workers actually fell by 190k, meaning the gains were entirely attributable to part time workers. The Household Survey revealed that the number of employed workers fell by 47k.
Average hourly earnings also came in much weaker than expected, with the monthly print at just 0.1% vs forecasted 0.3%. The yearly number also dropped, down from 3.4% to 3.2%.
Cain and Moore – Fed Nominations
Since AHE serve as a proxy for inflation, the market responded by pushing down rates and increasing the odds of a rate cut. Odds of a cut by year end are at 54%.
Helping matters were Trump's comments that the Fed should immediately start cutting rates and end balance sheet normalization.
This seems at odds with his repeated claims that the US economy is doing "really really well."
It also contradicts his position as a private citizen when Obama was the president.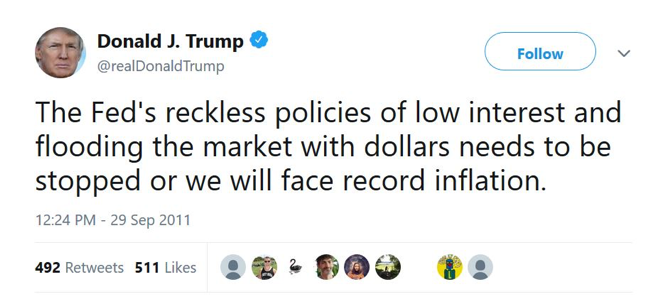 I'm skeptical Powell would change his position based on Trump's pressure. He seems pretty comfortable in his own skin. He knows if Trump fires him, markets will go into a nosedive, thus defeating the purpose of firing him in the first place.
More importantly, Trump's two recent nominations for the Fed seem intent on influencing Fed policy and they lack the requisite skills to serve. As much as I loved the Jay Powell nomination, I dislike the Stephen Moore and Herman Cain nominations.
I'm not opposed to those without a PhD in Economics from serving, but these guys are uniquely unqualified. You don't like Larry Kudlow? That's ok, the president deserves the opportunity to appointment people that can help him execute his vision. Think Wilbur Ross is only out to serve the ultra-wealthy? Go win an election and replace him.
But appointments to the Federal Reserve Board carry up to fourteen year terms. Herman Cain is a successful businessman, but he has no training in monetary policy. Stephen Moore frequently gets his facts wrong and switches views depending on who he is trying to impress. Both men have previously expressed the desire to return to the gold standard, which would prevent the Fed from lowering interest rates. So…Trump is nominating two candidates that have previously opposed lowering of interest rates?
More likely, Trump is nominating two sycophants who will be making speeches in the coming weeks about how the Fed needs to cut interest rates and calling for an immediate end to balance sheet normalization.
Trump's last nominee, Marvin Goodfriend, expressed doubt about the benefits for Quantitative Easing. He thought balance sheet normalization should continue, getting the Fed out of the bond owning business. The Fed should continue increasing rates. Because his nomination was never formally heard by the Senate, the nomination expired, and Trump has to re-nominate him. But he hasn't.
Maybe his positions now spook Trump, who wants Fed intervention to continue propping up markets through the 2020 election. Since Goodfriend lacks Moore and Cain's flexibility on monetary policy views, Trump is moving on to those candidates that will support his positions even if it contradicts their own. I disagreed with Goodfriend on a lot of topics, but he understands monetary policy.
The good news (I guess) is that both are unlikely to survive confirmation. Cain dropped out of the 2012 election amidst sexual harassment charges as well as news of a 13 year affair, I'm not sure many GOP'ers want to throw their support behind him in the #metoo era. And Moore is so obviously a Trump spokesperson that Republicans may not want to go to the mat over this.
Trump had already appointed four Fed members, all well qualified and versed in monetary policy. Can you name them? Me neither. Because unlike that ref in the Auburn vs UVA game, they have done their jobs quietly and professionally without making headlines.
But now that Trump wants lower rates, he needs to fill the board with someone, anyone, that will support his views. And better yet, someone that will change those views as Trump changes his. A 60 year old tenured econ professor probably isn't at the top of the list of those that are willing to change their views on monetary policy from quarter to quarter.
Enter Moore and Cain. Probably the two worst nominations I can ever remember for the Fed.
This Week
How in the world can I be expected to stay up until 9:20pm for tip off tonight? I barely made it that late when the Eagles won the Super Bowl!
There is something awesome about this Red Raider team. They look utterly dominant. I want to hang out with their coach after a big win, he just seems like a great guy. Maybe he should be nominated to the Fed.
But the best part? He went to University of Texas. He's a Longhorn. They probably could have had him at any time. But they let him slip through their fingers. They must really enjoy the excitement that comes with being a bubble team every year. But hey, it's not all bad for UT. Congrats on that great NIT Championship!
I want to fly to Lubbock for the celebration. Those kids can't act like they've been there before (because they haven't) and it looks like a blast. First one to 50 wins and I'll watch it Tuesday morning. Go Raiders!
Texas Tech 55
UVA 51