Changes to Interest Rate Hedge Pricing
Over the past two months the market landscape has changed drastically with the 10T rising 50bps since just the beginning of February. Some of the drivers behind the markets selloff in Treasurys include employees returning to jobs, loosening social restrictions as vaccinations continue, and distribution of the third stimulus. Given how much things have changed, we wanted to provide another update on interest rate hedge pricing.
---
Interest Rate Caps
Since caps are forward looking and rate expectations have continued to rise, cap premiums have risen considerably over the past couple months. Investors have begun pricing in rate hikes as soon as 2022 where previous expectations were for 2023 and beyond. Cap premiums on high strikes have followed lower strike structures higher as they return to levels we saw prior to the pandemic as you can see below.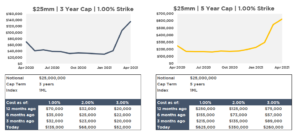 ---
Interest Rate Swaps
LIBOR swap rates have continued to trend higher, nearly doubling from levels seen just a few months ago. Given that the Fed has committed to keeping rates low through at least the end of 2023, there's likely not much near term rate risk. However, fixing for longer terms could still make sense if the hedge term aligns with the planned hold period of the asset.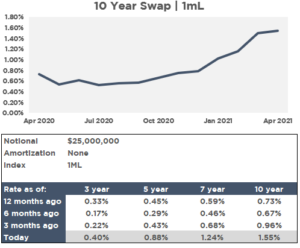 ---
Putting a Ceiling on 10 Year Rates
Swaptions still remain an attractive option if you're concerned about longer term rates spiking or you have a rate lock in the future. We've outlined the mechanics in the link below, but in short, you purchase the right to pay a fixed rate at some point in the future (putting a ceiling on your rate), in exchange for an upfront premium. Higher strike swaptions are cheaper (and vice versa). We've outlined some generic pricing below to help provide context.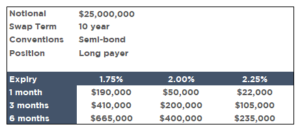 ---
LIBOR/SOFR Transition
The FCA confirmed that LIBOR will cease to be provided or no longer be representative as of 6/30/2023. Below we've included links to a few commonly used resources to assist with your transition planning.
• SOFR Transition FAQs
• What Happens To My Rate Upon Conversion?