Consumer Buying Conditions Collapse
At the conclusion of perhaps the most mediocre tryout in Ranger Battalion history, I was grateful to have been selected at all. I was squarely in the middle of the pack. It was not a no brainer that I would be selected, but I was. A sigh of relief – it wasn't all for naught.
Once you get assigned to your Battalion, the squad leaders basically have a draft. It's like being picked for kickball in gym class, if your gym teacher owned every aspect of your life for the next three years. Much to my surprise, I was drafted in the second round, probably about three rounds too early.
Ultimately, our squad was devoid of the strongest members of the class. We were all pretty average and most of us knew it. So did our squad leader.
"I picked you because you struggled during tryouts and persisted. Because it didn't come easy. Because you reached your breaking point and refused to throw in the towel. I know how you will respond when the sh*t hits the fan. The guys that breezed through everything – I have no idea if I can count on them when the walls are caving in around us. I don't want to be in a foxhole with them, I'd rather take my chances with you. The only thing worse than losing is quitting, and we can't have any quitters in the middle of a firefight. I know you won't quit." I'm not sure if there's any truth to his approach, but it helped justify my middling performance!
While I love the beneficial attention mental health is receiving as the result of Simone Biles dropping out, I'm not in love with our collective reaction. Has the word "courageous" lost its value? Do we celebrate people quitting as long as it has the appropriate backstory? If you attach the justification to a third rail topic, do you automatically qualify as courageous? This will probably come as a shock to you, but my daughters disagree vehemently with me on this. Who was once woke, is now lost.
Think of the medical professionals that have gone to work over the last 18 months, and then home to expose their families, and then back to work the next morning. Our service people returning home from Afghanistan. Police officers. Teachers. Parents dealing with kids. That. Never. Leave. The. House. Amazon or grocery store workers that we asked to go to work every day so we could order from home, while casting judgement about their lack of social distancing. There are countless examples of courage over the last 18 months, but I'm not sure Biles dropping out to preserve her mental health is one of them.
This is not a knock on Biles. She is entitled to make whatever decision she believes in her best self-interest. But why do I have to celebrate that decision? I hate that she is going through this struggle, particularly on such a public stage. But I would have admired her more for making that decision before flying to Tokyo. Or not in the middle of the games, hurting her team.
Here's the thing – Simone Biles has already demonstrated real courage when she spoke out against Larry Nassar. We should celebrate that. She is courageous, but not for the events of the last week. I don't think she's clamoring for the praise, either. This is an indictment of our response, not her decision. Show her support and empathy, but maybe stop short of celebrating it as courageous.
Lastly, I don't think Biles can be considered the greatest gymnast of all time, even if the medal count suggests she is. If you want to play in that rarified air of GOAT, you have to play by different rules. Shouldn't that be ok? MJ. Ali. Serena. TB12. Phelps. Usain. Ledecky. You don't have to win every time, but you have to suit up every time, especially if your main event only rolls around every four years. That's the price of admission.
During Ranger tryouts, there was a huge sign in our barracks. "Courage is not the absence of fear, but rather the assessment that something else is more important than fear." Who do you want to be in that foxhole with? Right now, I'd take Suni Lee or MyKayla Skinner.
I am fearful of the dinner discussion tonight as we revisit the topic, but I will push forward.
I am courageous.
Last Week This Morning
10 Year Treasury down to 1.22%

German bund down 6bps to -0.46%

2 Year Treasury down 2bps to 0.18%
LIBOR at 0.09%
SOFR at 0.05%
Q2 GDP was a huge miss, coming in at 6.5% vs forecasted 8.4%
Core PCE was a miss, coming in at 3.5% vs 3.7% (even though it was the highest print since 1991)
Durable Goods was a huge miss (more on that later)
University of Michigan Forward Inflation Expectations
Consumer Confidence hit a 16-month high
The debt ceiling is officially in place again, in much the way a limit is placed on my wife's Amazon account. Technically, it exists, but c'mon, we all know it's not a real thing.
FOMC Meeting
Powell struck a largely dovish tone, suggesting the Fed is a "long way" from raising rates. He also indicated there is "no evidence" that inflation is anything but transitory. Basically, everything we already knew.
However, the headlines following the meeting were around tapering. Powell said this was the first "deep dive" on tapering logistics, suggesting a tapering before year end. I still think they drop hints at the Jackson Hole symposium at month end and then a more formal plan at the September meeting.
Perhaps the best reason for tapering earlier than expected is the recent drop in 10T yields. If a Taper Tantrum puts some upward pressure on yields, the Fed may be more comfortable with a starting point of 1.25% instead of 1.75%.
The Fed wants a steeper yield curve because it makes banks happy and suggests a stronger economy, but it also doesn't want dramatically higher rates that impact the economy (mostly the housing market). While Powell & Co. don't put precise targets on long term yields, I suspect the preferred level is 1.75% – 2.00% right now.
Good luck seeing a 2.0% 10T with variants surging. The rest of the world was already behind the US, so our surge in variants will likely weigh on other nations well into 2022. Is it too early to start talking about additional stimulus – free money for everyone!
The Bloomberg Rates team research suggests QE is keeping yields about 44bps lower than fair value, while the current level of yields is about 2 standard deviations below where it should be.
Downside 1.16%-ish, and then 1.00%-ish
Upside 1.55%-ish, and then 1.75%-ish
Here's a snapshot provided by Bloomberg showing year end projections on the 10T.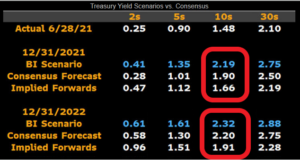 Buying Conditions – Whoops
The University of Michigan's Consumer Sentiment Index reached a pandemic high, but at least one aspect of the underlying data is concerning – Buying Conditions. In the graph below, we've included buying conditions for houses, cars, and durable goods. Consumers expect to be buying far less of these going forward because…gasp!…they don't buy houses and cars every month forever!

Not only does this suggest inflation will be cooling off, but so will GDP. Consumer spending makes up 2/3rds of GDP, and big ticket purchases are plunging.
Second half of this year should be interesting.
Week Ahead
Light week until Friday's labor report. I'm not sure delta variant has impacted hiring plans yet, but it's an important print nonetheless.
Biles could still compete on Tuesday (beam), which will likely be accompanied with a middle finger to the armchair QB in Charlotte casting judgement without the slightest whiff of experience on Olympic stress.