Fiscal Impasse Impact
Last Week This Morning
10 Year Treasury down a few bps to 0.65%

German bund down 7bps to -0.53%

2 Year Treasury basically unch at 0.13%
LIBOR at 0.14%
SOFR is 0.07%
Weekly jobless claims came in at 870k, slightly worse than expected
Durable Goods orders rose for the third straight month
The S&P had its fourth consecutive week of losses, moving into correction territory
I don't know why the media keeps reporting how Trump's Supreme Court appointee is setting up an epic battle. The Senate is controlled by the Republican party. There's no battle – Barrett will get confirmed. Yes, the hypocrisy is shocking, but those are the rules. You don't like it? Change the rules. Or win the Senate in 2018. Or win the White House in 2016. I have so many complaints about McConnell that I wouldn't know where to begin, but this whining has got to stop. Losing an election has consequences.
I generally dislike Executive Orders, but if I were President for a day, my first order of business would be to require websites to stop bombarding me with ads. It's out of control. 98% of my screen are ads that drop down from the top and the pop up from the bottom, leaving me with a tiny sliver of content. They're gone on my first day in office.
Fiscal Impasse
The House could take up a vote on a $2T+ stimulus package over the next week. Treasury Secretary Mnuchin spoke to Congress this week and indicated that he and Pelosi have been in constant dialogue. I hope it's genuine, but the cynical side of me wonders if this is all posturing for voters.
The Senate adjourns on October 9th to allow members to campaign. That's less than two weeks from now. McConnell can ask Senators to return for a vote, but the logistics definitely get more challenging if we don't have a deal in place by then. Then again, I'm sure he'll have everyone back in town for a vote on the Supreme Court appointee so I'm not sure that argument will carry much water…
Research by the Brookings Institute suggests that fiscal policy had a positive effect on Q2 GDP to the tune of 14.1%. Since GDP came in at -31.7%, that means GDP would have been -45.8% without fiscal aid.1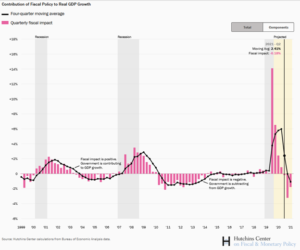 "As the effects of the CARES Act and other legislation wane, the effects reverse; fiscal policy will become a negative factor for GDP growth. In the second quarter of 2021, for example, fiscal policy will decrease GDP growth by -0.2 percentage point below its potential. We will update our forecast in the future to reflect any additional action by Congress."
Note how from 2010 to 2015, fading fiscal policy was actually a drag on GDP.
BofA chief global economist Ethan Harris writes, "the Fiscal Impact data also reminds us of the dangers of policy gridlock coming out of a major recession. The last recession also featured a huge fiscal stimulus—the $831bn (5.8% of GDP) American Recovery and Reinvestment Act of 2009 (ARRA). However, that proved to be the one and only stimulus package."
Some may interpret this to mean there is a double dip recession looming. I think that's a risk, but not the base case. Instead, I think it suggests a low, flatter trajectory coming out of covid. Here's what GDP looked like during that five year window highlighted earlier. Some ups, some downs, and about 2.0% on average. The stage is being set for a similar pattern this time.

Speaking to the Senate Banking Committee last week on the aid Americans need right now, "The risk is that they'll go through that money, ultimately, and have to cut back on spending and maybe lose their home," Jay Powell said. "That's the downside risk of no further action."
The Fed learned a lesson during the financial crisis: go all-in immediately. It has. Congress should pay attention.
While I appreciate fiscal restraint, the midst of the greatest demand shock in history is not the time to be practicing it.
That money is going to get spent one way or another. Either we:
Pass a stimulus package and keep Americans on their feet, in their jobs, and in their homes, or,
We don't pass it, brag about how fiscally responsible we are being, and that money ends up getting spent in the form of lost economic output.
It is going to be spent, let's do so in a way that minimizes the economic/societal damage. Can Democrats agree that maybe people shouldn't be making more money to stay home? Can Republicans agree that lower income earners might need more assistance than wealthy business owners? How is that we can't figure this out? Why are tech companies getting treated the same as restaurants, movie theaters, and hotels?
Also, a lot of us are already benefitting from stimulus. Fannie and Freddie are fulfilling a mandate by providing much more aggressive terms than would be otherwise available right now. That's a form of stimulus. We should be careful about demanding fiscal restraint of one kind while simultaneously benefitting from another.
Week Ahead
Huge week ahead, headlined by Friday's job report. Consensus forecast is for 850k jobs to have been added (last month was 1.37mm), with an unemployment rate of 8.2% (down from 8.4%). I can already see the headlines, "Job market recovery slows…" But wasn't that entirely predictable? It's impossible to add 1.5mm jobs in perpetuity. It's going to be years before we get back to 4% unemployment.
Before then, we have Wednesday's Core PCE report, the Fed's preferred measure of inflation. Consensus forecast is -1.0%, the same as Q2. If I've said it once I've said it a thousand times, the Fed would love to have an inflation problem right now. Disinflation/deflation/stagflation are all more pressing concerns.
And of course, the first of three presidential debates Tuesday night. Despite being hosted by respected Fox News veteran Chris Wallace, Trump is already managing expectations, "It'll be unfair, I have no doubt about it." Trump added, "He'll be controlled by the radical left."
There is some risk in this growing campaign to label Democrats as radical, or socialist, or anarchist. This feels like a branding strategy. If Trump loses on November 3rd and challenges the outcome in court, he can position it not just to save his presidency, but as a way to save America.
"Democrats are anti-America. I alone can save this great nation. This isn't a matter of votes, this is a matter of preserving democracy." Cue bald eagle swooping in against a backdrop of hundreds of flags to the tune of, "I'm proud to be an American."
We should be careful about labelling each other with these terms. McConnell and Schumer can disagree about the best way to run the country, but that doesn't make one or the other anti-American. Putin should not be considered a stronger ally to America than Pelosi.
Maybe Congress is dysfunctional because we're dysfunctional. Maybe Congress is really just a reflection of us? If we didn't tolerate the rhetoric, would they keep it up? We should avoid labeling each other as anti-American just because we disagree. Disagreement is healthy. Demand better from our leaders if they do it.
I began the newsletter by asking Democrats to stop whining about the Supreme Court. I will conclude it by asking the same of Republicans if Trump loses. Accept the results, unhappy as you may be.
Respecting the rules begins with respecting each other.
Sources