Fixed Rates Down: Lock In Or Risk Rates Changing?
Since their peak on June 14, rates are down 0.50-0.60% across the curve on the back of eco data, Fed speak, and mounting recession fears. If you're locking a fixed rate in the near future and want to avoid rates potentially spiking, you could cross your fingers… or consider executing a swaption.
Since swaptions are options on swap rates (and not US Treasurys) they're effective but not always a perfect hedge. Since the beginning of 2022, the spread between the two has varied from 0.16%-0.24%, and at the time of writing, was ~0.20%. In other words, there could be a couple bps of mismatch but swaptions otherwise perform well for efficiently putting a ceiling on rates.
Here's some generic pricing on a variety of structures. By way of example, if you wanted to put a ceiling on the 10 year Treasury at ~3.00% for a rate lock occurring in 4 weeks, you would execute the 2.80% strike at a cost of $205,000.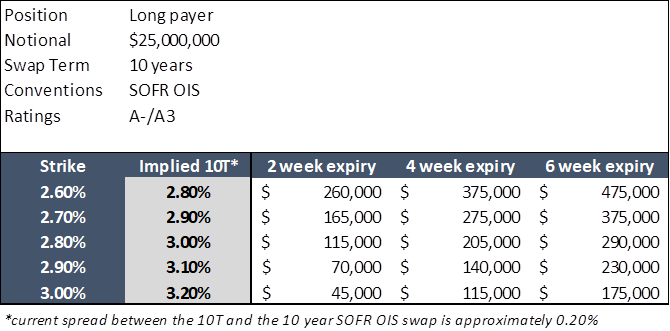 Frequent readers are likely familiar with the mechanics of swaptions at this point, but if not, here's a quick refresher:
An upfront premium is paid for the option, which puts a ceiling on the 10 year swap
If at the expiry the swap rate > strike, the bank pays the borrower the present value difference between the swap rate and the strike

Borrower rate locks with their lender and the swaption payment can be used to offset the increased rate.
On a $25mm 10 year deal, a swaption in-the-money 10 bps pays out ~$220,000

If at the expiry the swap rate < strike, the option expires worthless, and borrower still rate locks with their lender
More here
If you'd like to see pricing for your deal or discuss in greater detail, please reach out to the team at pensfordteam@pensford.com or 704-887-9880.