Inflation Falling Faster Than Bengals Super Bowl Odds
On Friday, I would have listed these as the Top 3 Most Overrated Things in the US
1. Labor market
2. Soft landing likelihood
3. Texas Longhorns
I was so confident that Texas would lose to Bama, I bet my son dishes for a week. No spread, just straight up. It was like taking candy from a baby. Free money. I tried to get him to make the wager dishes for a year, but he passed. And thank God he did, because the idea of the Longhorns going into Bryant Denny Stadium and leaving with a convincing 10 point win was borderline incomprehensible.
He's a good sport though - he walked from the kitchen to hand me his plate while I sat in the family room watching football…I've never respected him more.
Last Week This Morning
10 Year Treasury at 4.25%
2 Year Treasury at 4.99%
SOFR at 5.31%
Term SOFR at 5.33%
Factory Orders MoM came in a -2.1%
Durable Goods Orders came in as expected at -5.2%
Odds of a hike in two weeks are basically 0%, but odds of a hike in November are 43%
Thank God Coco defeated the incredibly annoying Sabalenka in the US Open. A legend is born.
I remember when we started hiring college grads that didn't remember 9/11, and it blew my mind. Now we're hiring college grads that weren't even born then. I don't know how to process that.
This Week's Inflation Report
Headline CPI will likely increase this week, causing the media to scream about reaccelerating inflation. Don't stress – current CPI is just now starting to capture last year's plunge (aka "base effect").
If Core CPI m/m comes in at 0.2% as expected, that would be three months in a row. A 2.4% annualized Core CPI is a great number and ties out nicely with the Penn State/ACY Core PCE Inflation Rate of 2.2%.
In other words, if the shelter component didn't have such a nasty lag, we'd be looking at core inflation readings somewhere in the 2%-2.5% range and not north of 4%.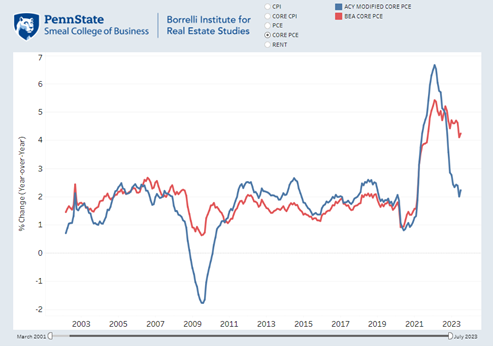 PSU's Rent Index bottomed out in March/April this year and is actually starting to move back up (albeit off a -5% bottom). This suggests that sometime in spring 2024, the official government metrics of rents will start ticking back up even though the bottom might be behind us.
This suggests that sometime in spring 2024, the official government metrics of rents will start ticking back up even though the bottom might be behind us.

Here's supercore m/m this year. Economists would take the 3 month average and annualize it, which would translate into core inflation of just 1.72%.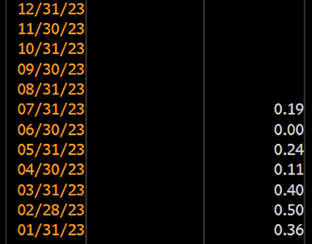 It's not a projection – it's just math. Inflation is coming down.
Job Revisions
Some quotes on July 7th following that day's jobs report:
"This is a strong labor market where demand for higher paying jobs is clearly the trend," said Joseph Brusuelas, chief economist at RSM.
"Overall, the job market is outstanding and is getting back to a balanced, sustainable level," Chicago Federal Reserve President Austan Goolsbee said.
"A 209,000 increase in payrolls can hardly be described as weak," said Seema Shah, chief global strategist at Principal Asset Management.
Wells Fargo senior economists Sarah House and Michael Pugliese wrote in a note on Friday. "That said, job growth of +200K is still quite strong even if it is directionally slower than the scorching pace seen over the past year."
Last week, that print was revised down to just 105k. I wonder if they would have been so bullish had they known at the time the real number was more than 100k lower?
But hey, how could they have known, right? They were just commenting based on the data they had available. Well…because on July 7th the prior report was revised down by 33k and the month prior to that was revised down 77k! No quotes about that, though. Job revisions are the Voldemort of economic data.
But wait, there's more! Not only have the headline job reports been revised down a collective 400k this year, and not only did the annual adjustment revise the gains down by another 300k, the job gains we have made are dependent on some pretty large BLS adjustments.
Seasonal adjustments – the headline job gains this year are 1.88mm, but that includes seasonal adjustments intended to make the numbers more accurate…my college grades could have benefited from a seasonal adjustment, too.

Without this adjustment, the job gains for the year would be 958k, which averages out to about 120k per month.

Birth/Death adjustment – this refers to businesses, not humans. I have no earthly clue why they call it this. Was "Open/Closed" taken? But I digress…the BLS estimates that there have been 1.02mm jobs created from as the result of business

births

Don't skip that part – more than 1mm of the job gains this year are entirely attributable to the hypothetical company openings.

And that adjustment is based on something called the Establishment Survey, where the BLS calls up 150k businesses and asks them jobs questions.

2015 response rate: 70%
Current response rate: 32%

Can you think of anything else I've harped on with a terribly low response rate? That JOLTS tho!

2019 response rate: 60%
Current response rate: 30%
Negative revisions, seasonal adjustments, hypothetical businesses, etc. Now, I don't actually think we've net lost jobs this year. But I do believe the truth lies somewhere in between "the strongest labor market in the history of the universe" and "flat".
The more confident everyone becomes about a soft landing, the more confident I am we won't have one.
Week Ahead
Markets are anticipating next week's CPI and PPI inflation data as they look for more clues on the future of interest rates. More importantly, the Eagles kicked off their march to Vegas.
The Birds should have won the Super Bowl last year and they are obviously winning it this year. I was glad we got to kick off our season against the most hated team in football not based in Dallas.
Here's a pic of Tom on his way to Foxboro for his own celebration.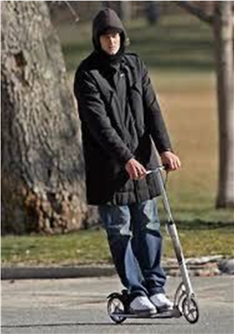 During the highlight reel portion of the ceremony, they celebrated Tom's most memorable Super Bowl play.
Heck, I was so busy celebrating that drop I didn't even notice the football…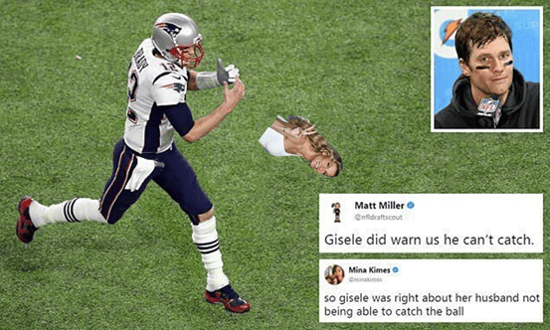 Like my son, TB12 was also a famously good sport. Here he is celebrating the Eagles win over the Patriots SB LII.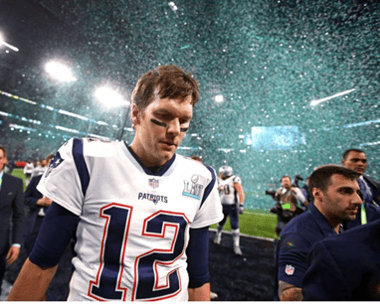 When one of the reporters suggested the Fed was done hiking…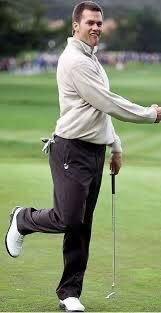 Here he is with the most egregious jock thirst trap postings he's ever made.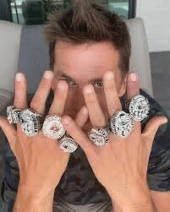 Then again, to the victor go the spoils. He is, in fact, the GOAT.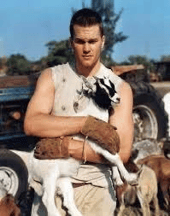 That was hard for me to type, made easier by four simple facts:
He is retired and we never have to play him again
The Eagles won so I am not in a foul mood
It was a great excuse to use that photo
I have dishes stacking up and need to wrap this up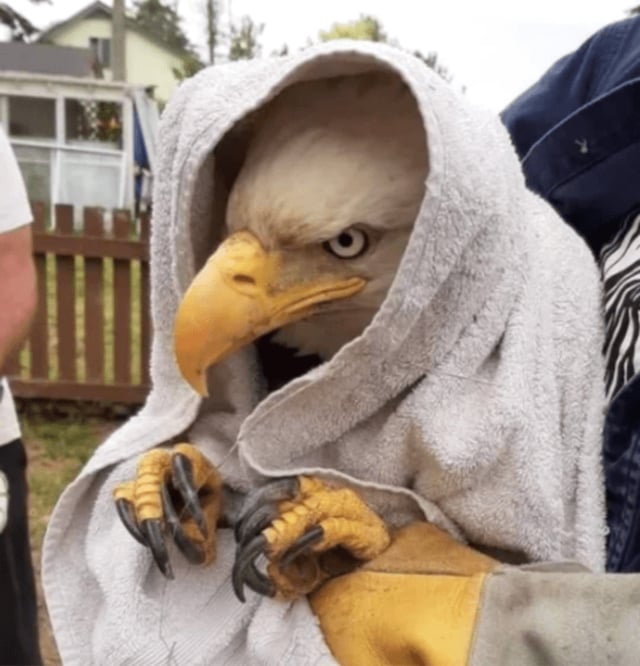 Don't worry TB12 fans, here's my spirit animal after we totally lucked out yesterday.