Jackson Hole Primer (2021)
Mercifully short newsletter this week as we recover from our west coast trip to drop kid #3 off at college. Three out of five are out the door – we're over the hump!
Last Week This Morning
10 Year Treasury back down to 1.255%

German bund down 3bps to -0.50%

2 Year Treasury up 2bps to 0.22%
LIBOR at 0.085%
SOFR at 0.05%
Volatility hit a four-month high on Wednesday as the FOMC minutes were released
Retail sales were a big miss, driven in large part by a huge drop in auto sales

Did you know prices don't go up forever because eventually people can't afford to buy those things? Meet Exhibit A for why inflation isn't on a runaway freight train.

Manufacturing data disappointed
Dallas Fed President, one of the most vocal proponents of tapering, said he may push back the timeline for tapering if delta impacts the recovery
Jackson Hole
@americanairlines, can I get my flight to Jackson Hole refunded? The KC Fed just announced it will be virtual this year. Again.
JK, I wasn't invited. Again. Which is probably a good thing, because this is going to be a snoozefest.
I've thought all along that Powell would reinforce the sentiment that tapering is coming without providing concrete details. With the surge of delta cases, I feel even more strongly. Why tackle that now when you can wait a month until the next FOMC meeting and see how the data looks between now and then?
Either way, tapering is coming sometime around year end or start of next year. But it's likely bigger news for equities than bonds. Check out how nicely correlated the S&P has been to the Fed balance sheet expansion.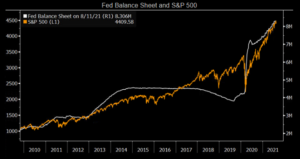 Relative to other markets, Bloomberg puts the 10T about 1 standard deviation too low. They estimate the appropriate level is about 1.41%, and that QE is depressing yields by another 0.25%.

Paradoxically, a dovish Powell could cause rates to rise. If he expresses concern over delta and reminds everyone how accommodative the Fed will be, it may create a little risk-on mentality.
Now, if I am wrong about Powell lulling the market to sleep, volatility could explode. As I noted in the intro, vol hit a four-month high last week while the market awaited the FOMC minutes. Should he misstep, things could get rocky. Powell hasn't done that before and I don't expect it now, but just put it on your radar. The market is on edge.
Powell will likely get some questions about whether he expects his four-year term to be renewed by Biden (his current term expires in February). Not keeping Powell in place would be Biden's worst decision in… about a week. Why inject more uncertainty in the face of so much uncertainty? Pretty much everyone not named Senator Warren loves Powell. I don't think Biden replaces him right now, and Yellen gave the WH her full vote of confidence in Powell, which should give him more than enough reason to leave well enough alone.
Again, if I am wrong, expect an explosion of volatility. But I won't be. This guy is good.
Week Ahead
Jackson Hole starts Thursday, but Powell speaks Friday morning.
Durable goods, new home sales, and then we finish the week with Core PCE, the Fed's preferred measure of inflation.