My Cup Runneth Over
What a week. My cup truly runneth over. Let's see…
The Heels blow out Zuke. At Cameron. Few things bring me more joy in life than watching 10,000 Dukies giddily spend several thousand dollars to watch their team get blown out.
The Patriots owner got busted for solicitation. The last thing I would ever expect from the Pats organization is a cheater. I guess dating models has some downside after all, which drove Kraft to fly south (both literally and figuratively). "If anyone can beat a charge involving videotaping, it's the Pats." – Meek Mill.
Trump's election fraud claim is totally vindicated when my home district (NC-9th) approves an election do over after the Republican pastor-turned-candidate got sick with an illness that effected his memory about whether he hired a firm known to illegally manufacture absentee votes. Fortunately, that candidate's son was not affected by the same bizarre memory-loss inducing illness and he had lots of details about cautioning his dad about the firm. Oh, and emails. Lots of emails. Maybe his mom is the one that should have been a pastor.
Some actor I've never heard of orchestrated a fake attack on himself in an attempt to blame it on MAGA supporters. He hired two brothers he worked with on his show that I've also never heard of and then paid them with a personal check. Pretty please, with sugar on top, tell us you paid them with a check so you could take a tax deduction.
The Mueller witch hunt report is coming to a close. Trump critics point to the 34 indictments, seven guilty pleas, and four Trump associates in prison as proof there's something there. Fact-casual supporters retort, "Sure, but the Salem witch trials found 19 people guilty – so there!"
Democrats are still likely to be disappointed to learn that nearly 63mm Americans voluntarily voted for Trump.
Republicans are likely to be disappointed that Trump

definitely absolutely without a doubt

was communicating with Russia about business opportunities after he would lose the election and put his own interests above the interests of the country. "But Putin is still better than Hillary!"
Dianne Feinstein is in hot water for scolding kids from the Socialism is Awesome Because Everything is Free Movement Sunrise Movement for demanding she back the Green New Deal. The only people criticizing Feinstein are those without kids. The real surprise here is how incredibly restrained she was. I would have put them in timeout or taken their phones. Feinstein said, "You know better than I do, so I think one day you should run for Senate." That is basically a senator's version of "When you're a parent, you can ruin your kids anyway you want."
I left Friday afternoon for a volleyball tournament 8 hours away that hasn't ended as of 4pm Sunday. My takeaways
Being young is awesome, being old stinks. I take ibuprofen now because I will be sitting for an extended period of time in an uncomfortable chair. My back hurts from sitting.
Parents take this more seriously than the kids. Every game has at least three parents videotaping the entire game (usually an hour). I barely have time to watch these things in person, you think I want to be splicing tape throughout the week? That doesn't make me a bad parent, that makes them a bad parent, right? Rights!?
"Food court" means different things to different people
If you sit courtside and take a serve to the face because you are on your phone, you deserve it.
Indoor sports are better than outdoor sports when you have more than one game a day.
These weekends cut into my newsletter time, so I cheat by using other people's graphs and making it short! I feel like a broker trying to work and attend 13 conferences by March.
Much to my surprise, the parking lot of the Pennsylvania Farm Show Complex isn't my muse
Last Week This Morning
10 Year Treasury had another sedate week, closing at 2.65%

German bund basically unch at 0.09%
Japan 10yr yielding -0.05%

2 Year Treasury basically unch at 2.50%
LIBOR at 2.49% and SOFR at 2.39%
Student loan delinquencies hit an all-time high
FOMC minutes confirmed the Fed expects to end balance sheet normalization by year end
Are We Sure 10 Year Rates Won't Climb?
Speculators are very slowing starting to add short positions to the 10yr part of the curve. My favorite yoga pose, downward blue bars, illustrates the net selling growing in recent weeks.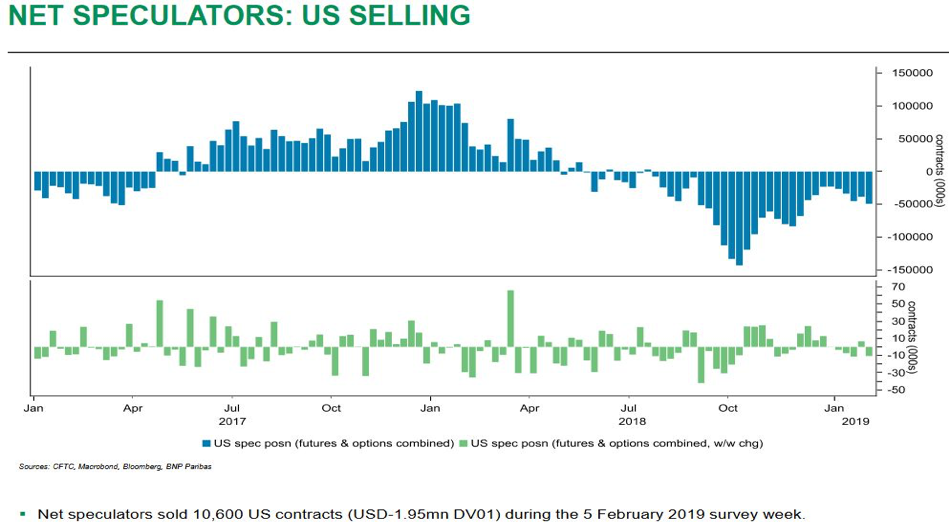 Bloomberg's Lisa Abramowicz tweated "There's a growing sense that longer-term U.S. rates will rise in the near term. The short interest on BlackRock's $13 billion 7-10 year U.S. Treasury ETF has surged to a record high."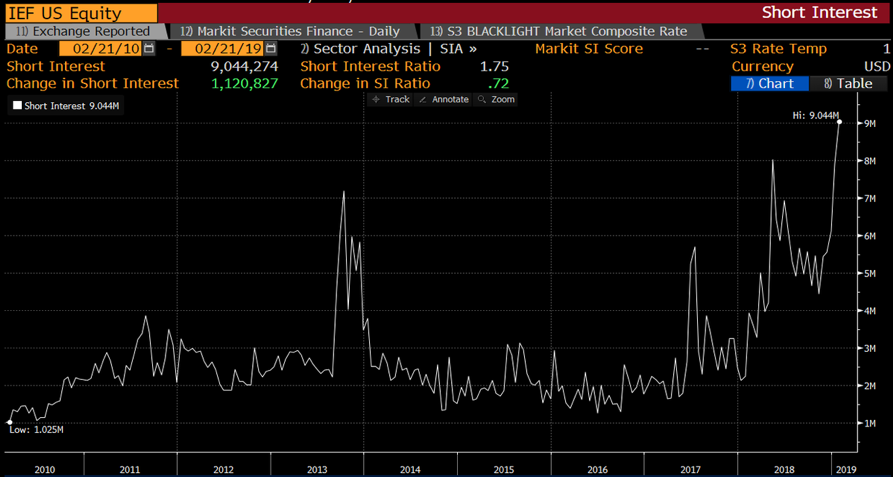 Now that one huge event risk (the Fed hiking us into a recession) seems to have been taken off the table, traders are starting to dip their toes back into the short water. I'm not convinced the T10 will spend 2019 in this very tight range.
This Week
A fair amount of data will be released next week. Housing data and Durables Goods mid next week. GDP on Thursday and PCE and ISM data on Friday.
Lots of Fed Speak. Powell will testify before the Senate Banking Panel and will also give a speech Thursday.
And now that you just got the first ever one page newsletter, your cup runneth over, too!