Philly Special
Cliff Notes version this week as I travel to Philly to watch the Eagles vs Pats. You may remember the last time these two teams played, it resulted in the greatest Super Bowl of all-time.
Also, if New England wins I don't need to hear from all my Boston readers… you guys have had an unprecedented run for 15 years, you should know how to win graciously by now.
If the Eagles win, however, I will of course be emailing each of you individually to gloat. Philly fans are the worst, we boo Santa and our victory parades turn into riots. We don't know how to handle success.
Last Week This Morning
10 Year Treasury spiked to 1.83% because maybe not everything Trump says comes true

German bund fell 8bps -0.33%
Japan 10yr relatively benign week and closed at -0.07%

2 Year Treasury back down to 1.61%
LIBOR at 1.73% and SOFR at 1.58%
Core CPI came in slightly lower than forecast, 2.3% vs 2.4%
Core PPI (producer vs consumer) came in slightly higher than forecast, 1.6% vs 1.5%
In Bloomberg's latest economic survey, the consensus forecast for Q4 GDP is 1.7% with a 30% chance of a recession in 2020

The same Bloomberg survey puts the T10 at 2.0% y/e 2020 and Fed Funds unchanged… no one could ever say economists aren't willing to go out on a limb…
The Atlanta Fed's GDPNow forecasts is calling for just 0.3% GDP in Q4

The Fed's semi-annual report on financial stability suggests the system is "resilient" and conditions are mostly stable (aside from that pesky 10% print on SOFR of course)

The report highlighted that corporate debt to assets is at a 20-year high

Industrial production had its worst month since March 2009
Before We Give the All Clear Signal…
With the recent spike in rates, it seems like a good time to remind ourselves there is a difference between the markets and the economy.
Markets are volatile. Forward looking. Profit-focused. This leads to oscillations that may be more closely tied to a Larry-Kudlow-induced headline ("We will definitely have a deal with China" sending stocks to new highs over and over again…) than an actual change in the underlying economy. Also, markets throw temper tantrums like Tom Brady when a defender sneezes on him.
With 30 trading days left in the year, traders are trying to avoid getting run over by a temper tantrum. They don't want to give back 10.5 months of P&L in the last six weeks of the year. This leads to rapid re-positioning, which exacerbates rate movements. Even if you have a long-term view that rates are headed lower, this isn't the time to stand in front of that Brandon Graham freight train and get strip sacked as the game year winds down. You do what you need to do in order to protect your year-end bonus.
The economy, however, is a little slower to reflect changes. Sure, unemployment looks great today, but trade war impacts may not be felt until next year. If the Atlanta Fed's Q4 GDP forecast of 0.3% materializes, it will be only the 5th quarter since late 2009 with a sub-0.5% GDP.
It appears the trade dispute is slowly beginning to take effect on the consumer, with confidence dipping slightly. Additionally, here's the Bloomberg Consumer Comfort Index that shows how Americans feel about their personal finances. We are back down to levels seen at the start of the year when Brady dropped an easy 3rd down pass from Amendola Powell was still calling for rate hikes and stocks were tanking.
Before Democrats start celebrating like they just knocked down a Brady Hail Mary as the clock expires, here's that same index since the 2016 election. While the recent trend is down, we're still at levels much higher than in 2016.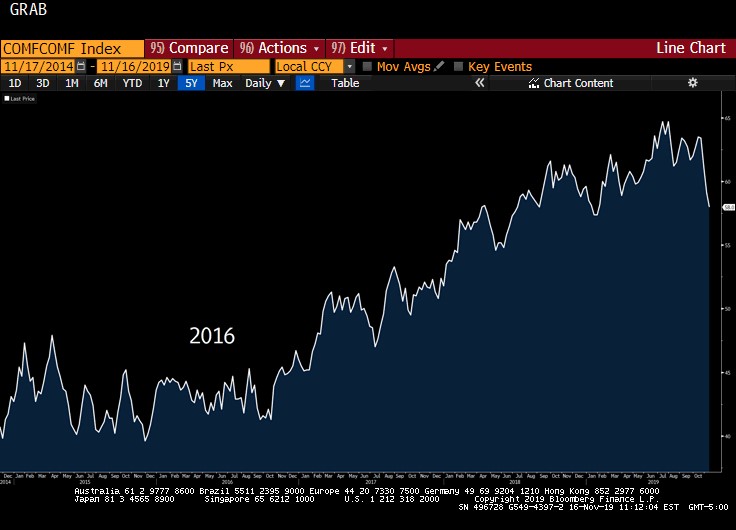 In the spring we highlighted the Cass Freight Index because it was suggesting a recession by year end. While we will not have two quarters of negative GDP by December 31st, they are still calling for a sharp downturn based on their analysis of shipping data, "shipments index has gone from warning of a potential slowdown to signaling an economic contraction."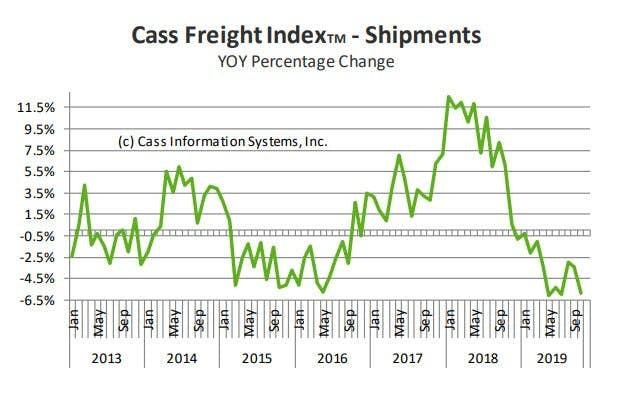 The report continues, "we see a growing risk that GDP will go negative by year's end." Unlike economists from a Bloomberg survey, these guys aren't afraid to make a bold call like calling a trick play on 4th and goal in the Super Bowl (https://en.wikipedia.org/wiki/Philly_Special).
"At first glance, the GDP for the 1st through 3rd quarter seems very inconsistent with overall freight volumes. Using the Cass Shipments Index as a predictive proxy, we did not expect the GDP to be as strong as the reported 3.1% in Q1, or 2.0% in Q2, or even 1.9% in Q3. As we have already explained, dissecting the contributing factors explains much of the disparity, and should point out that freight flows are a leading indicator. It often takes two to three quarters for the trends in freight to become reported economic statistics."
"Based on the trend since the beginning of the year, but especially the data over the last six months, the Cass Shipments Index continues to signal that the economy is beginning to contract and that the GDP could go negative, or at least come close to being negative, in Q4'19 and or Q1'20."
This Week
I went to a Panthers game last year in Charlotte. Two Panther fans started arguing with each other at the end of my row. Threats were slung. Offers to move the discussion to the parking lot were exchanged. Lots of barking. And then the weirdest thing happened…
They apologized to each other and shook hands.
Huh?
What is this nonsense?
It made me so uncomfortable. How do you even begin to process that? How do I explain that to my kids?
Brady might throw for 500 yards again, the Eagles might trot out Nick Foles in a surprise half-time adjustment, and DeSean Jackson may even sprint down the field in his wheelchair, but I am absolutely 100% certain we will not see Eagles fans apologizing and shaking hands.
That would be the real Philly Special.
41-33. Never Forget.
(and if the Pats win this weekend and you email me talking smack, I'm going to respond with that)