Powell's Pivot from Prevent Defense
TB12 is finally retiring. Good! I'm tired of my wife using him as a measuring stick every time I complain about a body ailment. My knees just creaked when I stood up…" Tom Brady has some of the biggest, baddest humans on the planet trying to rip his head off each week." Or, if my biceps hurt after a jog from just holding my arms up, "I wonder if Tom Brady's arm hurts after throwing for 400 yards?" Or when I started suggesting that a walk constituted working out, "It absolutely does, because Tom Brady walks back to the sideline after every touchdown pass. Granted, he first sprints to the endzone to celebrate with his teammates…" It's not a fair comparison because I'm 300 days older than him, and those 300 days are the most critical. Besides, I showed her his pic from the combine and persuaded her that if I worked out really hard, I could attain that kind of body, too.
If you thought it was impossible for an athlete to get more love than ESPN has thrown at Tom Brady this season, you're about to get schooled. Tom Brady is about to get the MJ treatment. How long can a retirement parade drag on? Rather than be just another in the long processional line to shower adulation on him, my sendoff will revisit some of Tom's Worstest Moments. Let's dig in.
Tom Brady's Top 3 Worstest Moments
3. The Lessor of the Manning Brothers Owns Tom Brady
If you read that and immediately thought of Eli, it means you probably forgot there are actually three Manning brothers. Eli, The Mopiest of all Mopes, once asked, "What's Tom Brady's favorite wine? 'I can't beat the Giants!'"
In 2007, the Patriots went undefeated while putting up the biggest offensive numbers we had ever seen, averaging 38 points per game (before that was a thing) while TB12 threw 50 touchdown passes. In the week leading up to the Super Bowl, Giants WR Plaxico Burress predicted a final score of 23-17. Tom Brady responded, "We're only going to score 17 points? I wish he had said 45-42 and gave us a little credit for more points."
In a game that would forever be remembered for the Helmet Catch, it turned out Plax had been too generous. The Giants beat the Pats 17-14 and Brady didn't throw a TD pass until the waning moments of the game. While I could never root for the Patriots, I wouldn't have minded shutting up the '72 Dolphins, either. But Eli (ok, really the Giants defense) owned Tom on the biggest stage and ended their pursuit of perfection.
Four years later, a rematch would ensue that is perhaps best labeled as the Cooper Manning of the Giants vs. Pats Super Bowls, which ended in a 21-17 Giants win. Eli owns Tom.
2. Thank You, Shaun Ellis
I'm not sure if you've heard, but Tom Brady was a sixth round pick. It may have slipped your attention if it wasn't for the fact that NFL announcers are contractually obligated to mention it every broadcast.
If you're in your twenties, you probably don't remember that Tom Brady wasn't even the best QB on his college team. Then he gets drafted 199th overall in the 2000 draft and promptly starts holding a clip board.
You know how I know Tom Brady isn't Superman? Because none of this is possible without a devasting hit by Shaun Ellis to effectively end Drew Bledsoe's career. How can someone be Superman if they can't even earn their way onto the field with fair play (and properly inflated balls)?
Listen, he's had a decent run. But if your entire body of work is dependent on help from the NY Jets, you're suspect.
1. The Philly Special
If you thought I wasn't going to use this as an opportunity to relive the glory days, you are sadly mistaken!
In what is inarguably the most exciting Super Bowl of all time, Tom Brady came up short. So what if he threw for more than 500 yards? So what if the Patriots didn't punt even once? So what if he still had a chance to tie the game with a Hail Mary pass as time expired? Who got the win? That's right.
The Eagles and Patriots combined for the most points, the most yards, and the least punts in any Super Bowl. It was insanity. Glorious, gut-wrenching insanity.
But TB12 actually did come up short on one pivotal play in the second quarter, down 9-3. The Pats called a trick play, and criminally underrated WR Danny Amendola threw a perfect pass to Brady….who let it slip right through his fingers.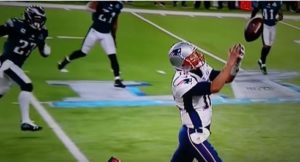 Adding insult to injury, the Eagles ran a similar play on 4th and 2 later in that same quarter. Here's Super Bowl 52 MVP QB Nick Foles showing Tom how to properly catch a football.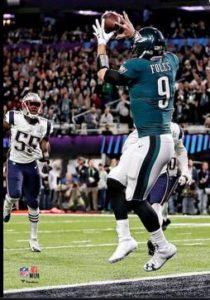 The Eagles went on to win the game 41-33 and the Philly Special legend was born.
"Didn't Brady win the Super Bowl the next year and then another after switching teams to the Bucs?" my wife just asked. She's so…loving.
"Yep, and he had Giselle to comfort him after the painful loss, too," I replied. In my head. Despite my Philadelphia allegiances, I'm not a total idiot. I'm too old to be sleeping on the couch.
So there you have it. While Brady basks in savior-like adulation in the coming weeks, it's important to remember the more humanizing aspects of his career. Enjoy retirement, Tom. I hope you feel at least one body ache at some point you magnificent bastard.
(Editor's note: our legal department just received notice from the NFL noting that a Constitutional Amendment now requires all stories involving Brady's retirement refer to him at least once as the GOAT.)
Ladies and gentlemen, I present to you: the GOAT
Last Week This Morning
10 Year Treasury actually didn't move much, up 2bps to 1.78%

77% is still a key resistance level
German bund up 2bps to -0.04%

2 Year Treasury all the way up to 1.17%
LIBOR at 0.11%
SOFR at 0.04%
2021 GDP came in at 5.7%, the fastest since 1984
Q4 GDP expanded at 6.9% vs 5.5% forecasted

This is a strong reversal from Q3's 2.3% GDP
This is also likely steals from Q1 2022, with most forecasts around 3.0% this quarter

Core PCE, the Fed's preferred measure of inflation, came in at 4.9% (as forecasted)
GDP Price Index spiked 6.9%, the most since 1981
University of Michigan inflation expectations

1yr forward: 4.9%
5-10yr forward: 3.1%

Consumer confidence slightly higher than expected
FOMC
I won't rehash what we covered in Wednesday's post-FOMC newsletter (click here). Needless to say, Powell was the most hawkish he's ever been.
The market is pricing in almost 5 hikes this year, with three straight hikes in the spring. That should definitely undoubtedly 100% rein in the cost of dining out…
Bank of America is calling for 7 hikes this year with an ultimate landing spot close to 3.0%
JPM revised the # of hikes this year from 4 to 5, but subtracted one from 2023, so the total over two years still translates into 8 hikes
Wells agrees, with 5 hikes this year and 3 next year
While I might be the last person in America that thinks we're over/mis-reacting to inflation caused by supply chain issues, not low interest rates, the reality is staring me in the face that the Fed is going to start hiking in March. With that in mind, this shocking change of heart may still be underestimating the path of Fed Funds.
Once the Fed starts hiking, the market always underestimates the path of Fed Funds.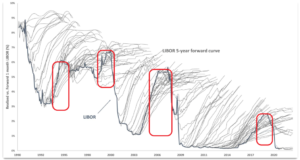 Going back to 1973, the average amount of hikes in the first 12 months is 3.0%. That obviously seems way too high to me, but it makes me nervous about "just" four hikes being priced in currently.
The market has Fed Funds getting to 1.75% (7 hikes) within the next two years, and then leveling off in perpetuity. If the market is underestimating the path of Fed Funds again, that means we are really headed to about 2.50%.
Expect Fed Funds/LIBOR/SOFR to start climbing in mid to late February as the March 16th FOMC meeting bakes in a hike(s). Assuming the market settled on a 0.25% hike, LIBOR would climb to about 0.35%, SOFR would climb to about 0.30%. If there is some probability of a 0.50% hike baked in, they would be slightly higher.
10 Year Treasury
The 10T won't necessarily climb just because the Fed hikes – that is already priced in. In fact, the 10T generally falls once the Fed starts hiking.
Using the last cycle as a proxy for how the 10T behaves:
It moves up before the first hike, knowing that the Fed will eventually hike
It waits for Fed Funds to "catch up"
Then it tries to predict where Fed Funds will ultimately land
Then it falls as the Fed hikes us into the next recession (frequently involving an inverted yield curve)

Source: Bloomberg Finance, LP
In 2015, the T10 jumped to 2.50% in anticipation of a tightening cycle.
In 2016, the T10 fell to 1.75%-ish as the market waited for Fed Funds to catch up
In 2017, the T10 spiked to 2.60%-ish (in large part to Trump's win)
In 2018, the T10 kept climbing as the market realized Fed Funds would keep climbing. The T10 got above 3.0%.
This year may start off feeling like 2016, where the 10T largely waited for Fed Funds to catch up.
If the market believes the Fed won't/can't ultimately hike much above 1.75%, the T10 probably holds steady
If the market believes the Fed will ultimately hike above 1.75%, the 10T will likely move higher as traders try to predict the final landing spot
If the market starts to wonder if it is again underestimating the path of Fed Funds, that will be reflected in a spike in 10 year yields.
If the market remains confident in 7 hikes, or the data starts coming in weaker than expected and maybe 7 hikes is too much, that will be reflected in a drop in 10 year yields.
Throw in balance sheet reduction and other liquidity withdrawal measures, and the Fed will heavily influence long term yields for the foreseeable future.
Week Ahead
ISM manufacturing data may serve as a leading indicator of how much omicron slowed the easing of supply chain bottlenecks, but it will also likely reveal the weakest month since September 2020.
The headline will be Friday's job report, with consensus forecasts in the range of 150k jobs because omicron is expected to show up this month. The unemployment rate is expected to hold steady at 3.9%.
With economists revising GDP forecasts lower and inflation expected to peak this month, what if Powell went full hawk right before the economy really started slowing down?