Snowmageddon 2022 Lead Pipe Locks
A complicated weekend of sports in Raleigh was compounded by Snowmaggedon 2022! It was INSANITY!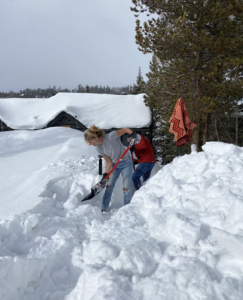 That's like three feet of snow! This is North Carolina, we aren't prepared for that!
Oh wait, what's that? That's Colorado? Oh…well then what was Snowpocalypse 2022 like in NC?
Here's a photo I took after my son's coach forfeited our games on Sunday so he could drive home. Mind you, a month ago he made a production about telling the governor face to face he would never get vaccinated, but then spent the day explaining how the governor was on tv pleading with people to stay off the roads and we need to heed his warning. That's bipartisanship at its finest!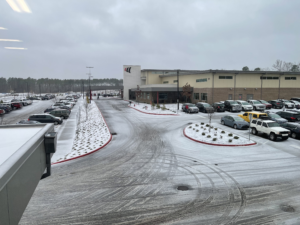 Here is a photo of the drive home during Snowgate 2022 on Sunday afternoon. The Eagles performance was far sloppier than this.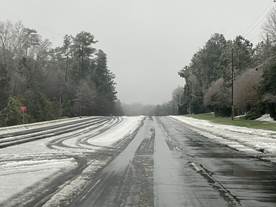 Having made it home safely Sunday night, I woke up Monday to write the newsletter. My son comes down complaining about feeling sick with all the symptoms. We give him an at-home test – positive. He had covid exactly a year ago, got vaccinated, got boosted, and got it again. I wish Jalen Reagor could catch footballs like my son catches covid.
Despite having booked online appointments, we showed up to a 3 hour wait. They sent us home and told us to call back in a few hours to see how they were progressing. What? Don't they know it snowed yesterday?
"But have you seen the road conditions!" I begged them. They were too slammed to have looked outside, so I showed them a pic from the drive over. Don't make us risk our lives again!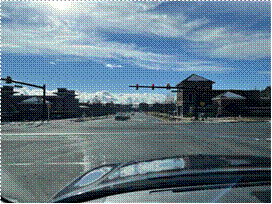 They were unmoved. And I can respect that. Better than calling out sick because it was just so dangerous!
So I asked her just one more question…
How 'bout them Cowboys!!??
Last Week This Morning
I am a week late with my Lead Pipe Lock predictions, but I think it's ok because 60% of the time, I'm right every time!
10 Year Treasury hit 1.74%

The high end of the range is 1.77%, expect lots of resistance there

2 Year Treasury spiked again to 0.93%

This could be still too low. The 2T could end up north of 1.25%.

LIBOR at 0.10%
SOFR at 0.05%
Lead Pipe Locks for 2022
Lead Pipe Lock #1 – Core PCE will finish the year below 3.0%
Apparently, I'm the only person in the world that thinks inflation will cool off substantially in 2022.
Core PCE, the Fed's preferred measure of inflation, should end up averaging about 3.25% in 2021 (waiting on December's final number). Although it's hard to cling to this belief while CPI just hit 7%, I think inflation is peaking and will head lower.
Demand, not supply chain disruptions, is the catalyst for sustained inflationary pressures. Furthermore, the Fed is ill-equipped to handle a supply side disruption. Hiking rates will dampen demand for interest rate sensitive sectors, like real estate, but will that really impact the cost of clothes? How many times have you said to yourself, "I should probably stock up on food while rates are this low"?
What makes me most nervous about this is the effect omicron will have. If my thesis is that demand is not out of whack as much as supply is out of whack, then supply needs to be fixed in order for inflation to cool. Could omicron and subsequent variations cause greater disruption and continued pressure on prices? It would seem to be so.
Check out this graph of shipping rates vs inflation. Logistical logjams should work themselves out this year, allowing inflation to subside.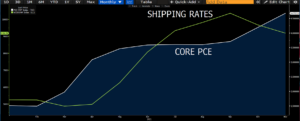 Source: Bloomberg Finance, LP
Fun fact – I once bastardized John Maynard Keynes' quote by saying, "On a long enough timeline, I am always right!" Turns out, lots of people who have been calling for inflation since 2010 believe in the same philosophy!
Lead Pipe Lock #2 – Financial Conditions will tighten but not enter restrictive territory
In late 2015, it became apparent the Fed was going to hike rates. The market puked and financial conditions tightened. Yellen ended up hiking once, then pausing for an entire year.
During 2016, conditions continued to loosen while the Fed was on hold. The Fed started the hiking rates again in Dec 2016, hiking every other meeting for the next two years.
Interestingly enough, rate hikes alone did not cause financial conditions to tighten. It wasn't until the Fed started shrinking the balance sheet (aka Quantitative Tightening aka QT) in 2018 that conditions tightened.

Source: Bloomberg Finance, LP
We are starting with much more accommodative conditions today, but the Fed is already talking about QT. Conditions will tighten over the course of this year, but not move into restrictive territory.
That tightening should lead to an overall sense that business feels like it is slowing heading into year end.
Lead Pipe Lock #3 – The 10T will spike to 1.75% in the first week of the new year
I feel really good about this one…
Lead Pipe Lock #4 – We start treating covid more like the flu
Barring a variant that represents a significant spike in hospitalizations/deaths, I think we settle into a routine. At what point does getting tested even matter?
I know not everyone reading this believes in vaccines, but I do. I was eligible for the J&J vaccine a few months before Pfizer/Moderna, so I had to go through the mental exercise of less effective vaccine today vs more effective vaccine in a few months. The primary reason I moved forward with J&J was it is very successful in taking the worst case scenario off the table.
A few months later, I had covid. It wasn't nothing, but it wasn't bad, either. I felt like I had the flu. It had worked!
Omicron seems incredibly contagious but if you're vaccinated, the worst case is largely off the table. Our definition of success shouldn't be Zero Covid, it should be "I got sick, but I'll be ok."
And now I am circling back to finish this off after my son tested positive. Will we largely stop testing at some point? The point of testing is to prevent you from infecting others, right?
I have spent less than 2 seconds looking at the strain omicron has put on hospitals, so I am not going to speculate. But if hospitalization and death should be off the table, should I even get tested? If the people I am going to come into contact with are vaccinated or have no plans of being vaccinated, are tests worthwhile? Am I over-testing? Should I treat covid with a healthy respect and learn to live with it?
My wife just tested positive as well. I guess I'll keep testing each day but I'm not sure how beneficial it is?
Lead Pipe Lock # 5 – Fed Funds will finish the year below 1.00%
In a few weeks we went from no hikes to 4 hikes? Simma down now…
Variants are impacting hiring. Retails sales are down. GDP forecasts are being revised lower. Inflation could be peaking. The Fed can pull other levers like shrinking its balance sheet.
Plus, I'm not convinced hiking rates actually addresses the current issues. In fact, how long before we are talking about the Fed hiking us into a recession?
Here's the Wu-Xia Shadow Fed Funds rate. As a reminder, this is the "real" Fed Funds rate once the Fed pegs rates to 0%. The recent change in forward guidance and spike in the front end of the curve has caused the Shadow Rate to spike 0.85% – basically the equivalent of 3 rate hikes.
Powell is already achieving the effect of rate hikes without hiking…this tells me he can tighten conditions further without risking the effect of four hikes.

Source: Bloomberg Finance, LP
Lead Pipe Lock #6 – the 10 Year Treasury will finish the year below 2.15%
The general trend for 10 Year Treasury yields ahead of a tightening cycle is a snap higher ahead of the first hike, and then wait for floating rates to catch up. In other words, the biggest move could already be done.
Here's a graph of how the 10T behaved after the first rate hike during the last five tightening cycles. I included a dark grey bar at the one year mark since that's probably more relevant than five years later.

If the current 10T followed a similar trend to previous tightening cycles, here's where it would be a year after the first hike.
One year from now
1994 2.38%
1997 1.48%
1999 1.82%
2004 1.49%
2015 1.96%
Average 1.83%
That feels too low, right?
I see two catalysts for the 10T breaking my year end ceiling:
The belief the Fed will hike more than currently projected, but that those hikes will not put us into a recession
Inflation will continue higher

The market is still not believing the long-term inflation story. If that changes, the 10T can spike.
And there you have it – your totally infallible never wrong guaranteed to be completely right Lead Pipe Locks for 2022. I look forward to reviewing these a year from now!
---