The Interest Rate Draft - 2023
I should have been an NFL GM. I love football, I'm shockingly overconfident, and I'm wrong all the time. In the 2020 draft, I lost my mind. The Eagles took Jalen Reagor one pick ahead of Justin Jefferson and would go on to become the biggest bust in Eagles history.
Then I went berserker when they spent a 2nd round pick on a QB with the same first name. This QB wasn't even the best QB on his own team, so he had to transfer to get playing time. And this came right after we had signed Carson Wentz to the largest contract in franchise history. "We wasted a second round pick on a guy we hope never sees the field." I was livid.
Growing up an Eagles/Penn State fan forced me to seek out "healthy" outlets for my fandom rage. One such outlet is GoDaddy. When I am seeing red, I log in and buy URLs. My wife calls them spite URLs.
firedougpederson.com
didwereallydraftbacktobackjalens.com
howiemusthavedirtonjeffreylurie.com
firejamesfranklin.com
jamesfranklindoesntgetfootball.com
seancliffordisfiftyyearsold.com
I know this will be hard to believe, but those URLs aren't in high demand and only cost $1.99 for a year. A year goes by, I cool off, and I don't renew. That's about as emotionally healthy as I can get when it comes to my teams. And no, I'm not joking.
But 2020 was such a frustrating year, I turned one of those URLs into an actual website.
I hadn't visited that site in years, and it is still up.
After the Eagles just had the most perfect round 1 I could have hoped for, I went to the site and was struck by a few things.
a lot has changed in the last three years, and Howie was just named GM of the year

I'm embarrassed to admit how much energy went into creating that site, but it is actually pretty good

That second round QB I railed against, Jalen Hurts, should have been the MVP last year, outplayed Mahomes in the Super Bowl, and just signed one of the biggest contracts in NFL history
Like I said, I'm wrong so much I'd be a perfect NFL GM.
I am now the proud owner of apparentlyhowiecaninfactdraft.com, but need to cancel psubackupqbwilllevistransferredandbecameatop10pick.com
If you think this is embarrassing for me to admit, just consider – this is the emotional outlet I'm willing to tell you about.
With that backdrop, let's play a little game of "What if there was a draft for interest rates?"
Last Week This Morning
10 Year Treasury at 3.42%

2 Year Treasury at 4.01%

LIBOR at 5.06%

SOFR at 4.81%

Term SOFR at 5.02%

GDP missed the 2% consensus coming in at just 1.1%

Core PCE came in line with expectations
Interest Rate Draft
The Carolina Panthers are on the clock!
"With the 1st overall pick, the Carolina Panthers select…Jay Powell…Fed Chair, DC"
Snap Analysis - Slower than ideal straight line speed, but compensates with fantastic quick twitch change of direction speed. 98th percentile shuttle run. Tight hips and short wingspan could hold him back.
Powell rightfully takes his place as the most crucial player this year. On Wednesday, the Fed will hike another 25bps, pushing the upper bound of Fed Funds to 5.25%. The market has this fully priced in and stocks aren't in a death spiral, so there's really no reason for the Fed not to hike.
But all eyes and ears will be Powell's press conference.
Despite a weak ownership team, he has a chance to immediately elevate the Fed franchise by beating down inflation without causing a recession. Does Powell signal a pause? Does he continue to overstate the strength of the labor market? Does the Fed plan on letting the credit crunch substitute for rate hikes?
He's already endearing himself to the city of Charlotte, stopping by various businesses for photo ops. His agent needs to coach him up on the difference between purple and teal, however.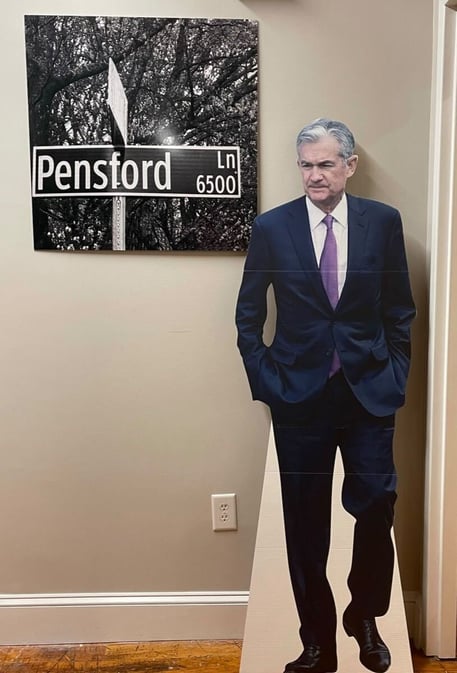 Chicago Bears
My wife's favorite team before she married into Eagle fandom, this franchise looks at the Eagles 2020 Reagor pick and says, "hold my 2017 beer." They had the third overall pick…sent four picks to the Niners to move up one spot…and drafted Mitch Trubisky. Eight picks later, the Chiefs took Patrick Mahomes at #10.
In attempt to right the ship, the Chicago Bears with the 9th pick select…Inflation, Running it Back, USA.
Snap Analysis – stubborn, plays with an old school mean streak, tough to bring down. Dances around a bit, but eventually plants foot and gets running downhill. Plays a position that has been undervalued for decades.
By now, you know the drill. Headline inflation is down considerably in the past year. But core inflation is stickier. And supercore inflation is even stickier. And super core sub-measures are even stickier. And super core sub-measures ex this particular data and that particular data on sunny days on months ending in Y east of the Mississippi minus dew point are even stickier…we're whittling away so many inputs that we're basically focusing on some random guy named Dave from Atlanta and how his wages are going…and then making monetary decisions off of it. Check out how Dave spent his stimulus money. Nice horse painting, Dave.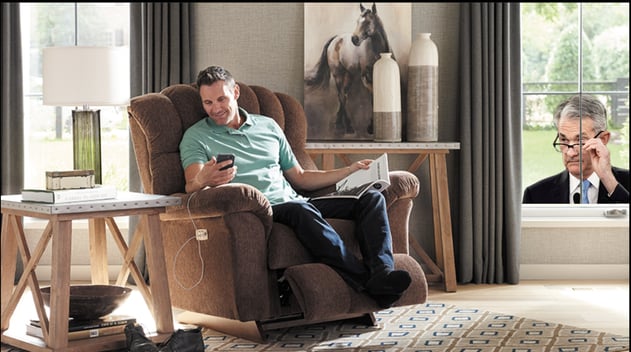 Powell believes wages lead inflation, but SMBC's research team put out an interesting piece this week that says the Fed has it turned around - inflation leads wages.
"Bottom line: When inflation falls, wages follow. The Fed has it backward. If so, the Fed's approach is deeply flawed. And because of this, monetary policymakers run the risk of keeping rates too high for too long, risking a much deeper and longer downturn as they wait for wages to fall more noticeably." (source).
Wages are green, inflation is gold. Generally speaking, the gold line moves first, the green line follows.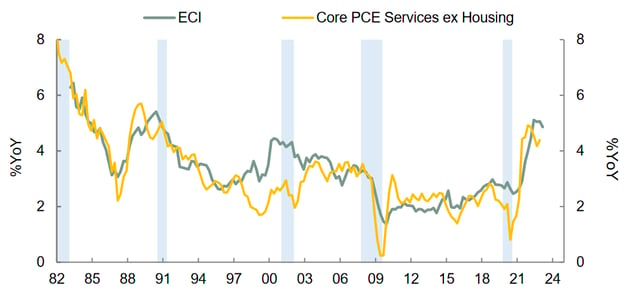 The Atlanta Fed surveys businesses about inflation expectations in the year ahead. Expectations are below 3% for the first time in two years.

The Bears stubbornly held onto Mitch Trubisky for too long (four years), and perhaps inflation is on a similar track. Hopefully, like Trubisky, inflation tis but a distant memory in a few years…
If I need to break something, the Bears are on the shortlist of teams I would entrust to pull it off. Do it Bears – break inflation!
Speaking of inept franchises, guess who's on the clock!
Dallas Cowboys
With the 26th pick, the Dallas Cowboys select…Labor Market, Fullback, Sunbelt.
Snap Analysis – most overrated prospect in the first round. Will make headlines and sell lots of jerseys, but long-in-tooth pick that is likely to struggle in the next few seasons. Best years are behind it.
Like the Cowboys, the labor market is overrated. Neither are outright bad, just not as good as the attention they receive. There are pockets of strength across geography (oddly enough correlated to business friendly states) and type of work (waiters and bartenders are in high demand).
Friday brings the next labor report, which will cause newscasters to overuse "resilient" more often than Cowboys fans use "this is our year!". Here are recent quarterly averages.
Q1 2021 NFP – 618k/mo average
Q1 2022 NFP – 561k/mo average
Q1 2023 NFP – 345k/mo average
Consensus forecast for Friday is 180k. Job gains are decelerating. The Fed's own projections call for 1.5mm job losses by year end, about 170k per month if they start now.
Companies are holding onto employees for longer because it was so hard to find labor over the last three years, but actual layoffs don't usually start until the Fed has started cutting rates.
The Fed, like Dallas fans, should stop using the rearview mirror to decide how they feel about their current predicament situation. Daryl Johnston is not walking through that door, and neither are 500k per month job gains.
Philadelphia Iggles
Because Howie is the greatest GM in NFL history, the Eagles had two first round picks on Thursday despite making the Super Bowl.
With the 10th pick, the Eagles select…Fed Pause, Edge, Hopetown NY
With the 30th pick, the Eagles select…Rate Caps, QB, Prettyplease PA
Snap Analysis – prospects with huge upside and the potential to have an enormous impact this year. Both could have been first round picks last year. Plus, everyone is rooting for them because they are so darn loveable.
Like the Eagles, I'm building for the future. These picks may not make an impact this week, but by the fall will be meaningful contributors.
The market is hoping Powell will signal a pause on Wednesday. I think it's premature. Inflation is proving remarkably stubborn and Powell is obsessed with the artificially inflated labor strength.
Between Wednesday and the June 14th FOMC meeting, we will get two CPI reports, two job reports, and one Core PCE report. That is a lot of data that could cause the Fed to keep hiking.
Instead of an outright pause, I think Powell suggests the end is nigh but that data will dictate whether each meeting is "live" for a hike. Why box himself into a corner and take possible hikes off the table?
Whether we get to 5.25% or 5.50%, it just doesn't make sense to me that the last 25bps is what suddenly wins the war on inflation. Instead, I think he starts trying to persuade the market that time is more important than peak.
The theme of this meeting will be, "We might almost be done hiking, but we definitely aren't close to cutting."
The biggest wildcard right now is the credit crunch. In one week, we get the next Senior Loan Officer Survey. Lending was tightening before SVB, and it has only gotten worse. If that comes out deeply negative, the odds of a Fed pause will spike. Powell has indicated credit tightening will substitute for hikes and that survey will provide hints at how bad it has gotten.
Any hints at a pause will be good news for caps, which have become the tail wagging the dog for a lot of borrowers. Again, that may or may not come this week, but option markets just need a plateau to start reducing volatility and price more on economic value.
Since the Reagor debacle, my beloved Birds are using a cutting edge technique to give themselves every possible advantage during the draft. If you promise not to tell anyone, I'll share their secret...
Take three players from the greatest defense in college football history, and pair that with 3 players from the greatest college program in history, and don't get cute with it.
It's Howie proof!
PS - don't tell the Cowboys.
Week Ahead
A Fed meeting and a job report – what more could you ask for!? How about one last url?
And if you don't think that's a functional website, you don't really know me.