Think Rates Will Be Higher for Longer?
The market is currently pricing in the first rate cut around May 2024 with a total of four 0.25% cuts before y/e 2024. In a previous study, we found that over the past four tightening cycles, the average time from the last hike to the first cut was 8.7 months, but never exceeded 14.6 months.

Assuming the July hike was the last of the cycle, on average, the first cut would happen around April 2024. This largely aligns with the current market expectation. However, if you believe the Fed will keep rates higher for longer than markets currently project, then the forward curve today is too low, and buying a cap or locking a short-term swap could prove beneficial.
Below we've compared current market rate expectations (blue line) to a higher for longer scenario (yellow line) where the first cut is delayed six months.
If borrower hedged today based on the current market expectation, but the higher for longer scenario materialized, a 0.32% per annum savings would have been locked in.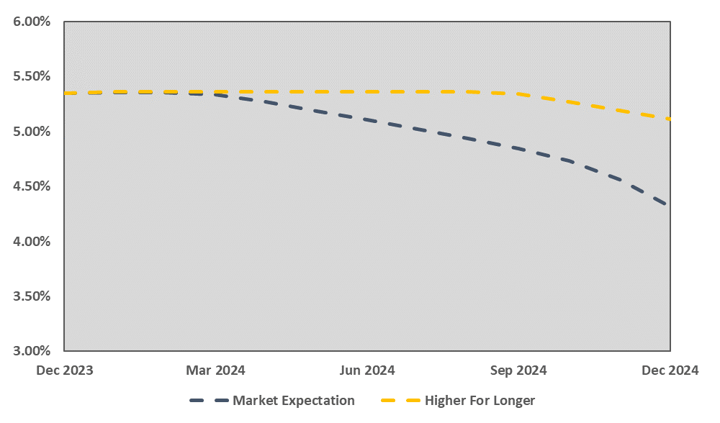 The forward curve represents market expectations at any given moment, but it certainly doesn't represent what the Fed will actually do. If you believe markets are overly optimistic about 2024 rate cuts, it might be worth considering strategies to protect against higher rates next year.
If you'd like to discuss, please reach out to us via pensfordteam@pensford.com or 704-887-9880.