This is Why the Market Has Trust Issues
Another blissfully short newsletter as I write from spring break in Southern California on Easter Sunday trying to

avoid eating the

manage the sugar rush from eating the kids' chocolate.




Last Week This Morning




10 Year Treasury spiked to 2.83%
2 Year Treasury down to 2.45%

Front end down, long end up, curve steepened last week

LIBOR at 0.59%
SOFR at 0.29%
Term SOFR at 0.52%
NY Fed Inflation Expectations

1 year forward: 6.6%
3 year forward: 3.7%

Core CPI came in slightly under forecasts at 6.5%

Monthly Core CPI actually came in below expectations at 0.3% vs 0.5%

Headline CPI (before stripping out volatile commodity and food prices) came in just over expectations at 8.5%
Retail sales came in just under expectations
Mortgage rates hit 5% for the first time in more than a decade
JPM is boosting loan loss reserves
Twitter is shooting its investors in the foot to avoid Musk

Upcoming Fed Meeting
The Fed goes dark the week before a meeting, so this week is the last chance to massage expectations for the May 4th FOMC meeting.

Bullard speaks on Monday, Evans speaks on Tuesday, and Powell brings it home on Thursday. I suspect they will use this week as an opportunity to cement expectations for a 50bps hike.

Not only is the market pessimistic the Fed can achieve a soft landing, fund managers surveyed by BofA are the most pessimistic about global growth since BofA started the survey.

We are at levels of pessimism below July 2008 and 83% expect a Fed policy misstep.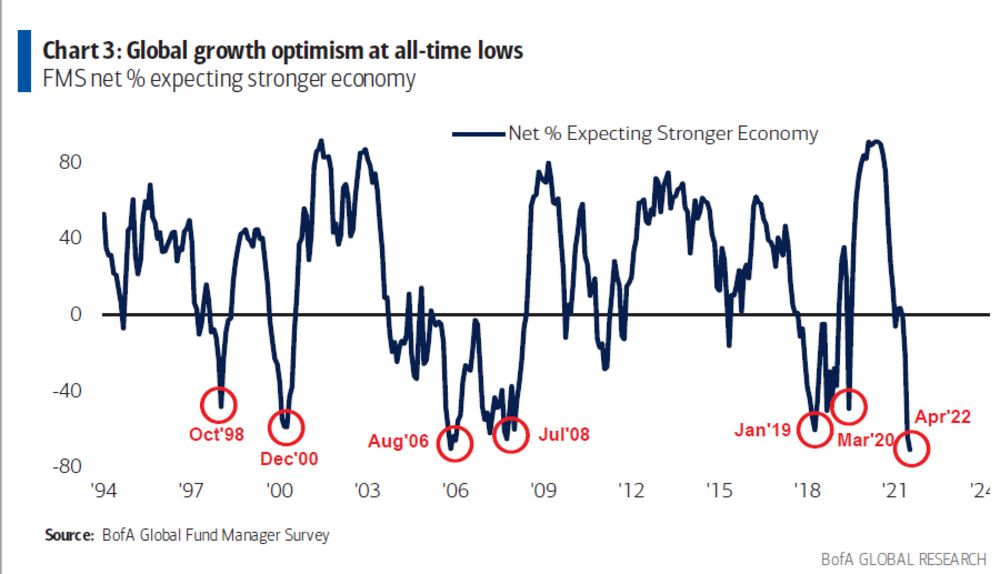 This is Why the Market Has Trust Issues
Two year rates plunged more than 30bps from Monday to Wednesday as Bloomberg reported a massive short covering. Interestingly, once the reset button had been pushed, rates promptly recovered most of the drop and settled back in around 2.45%.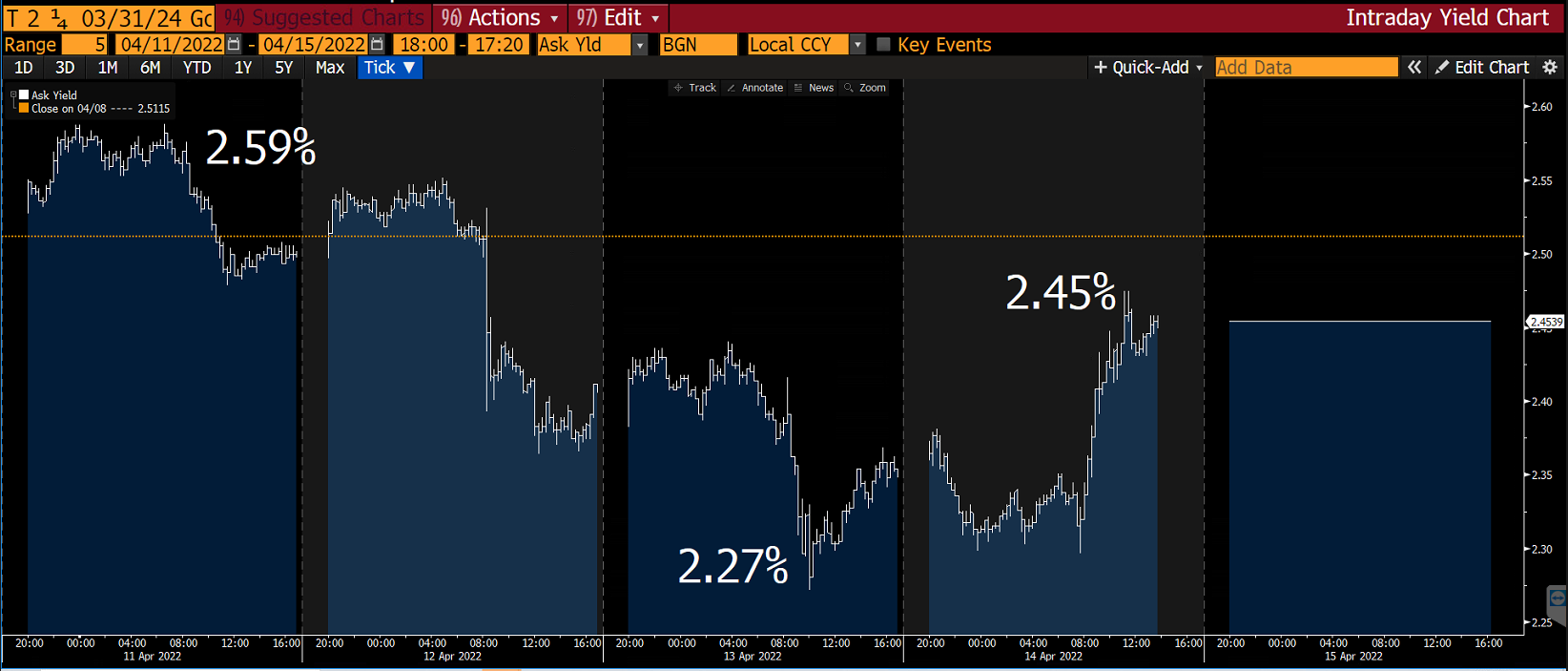 Source: Bloomberg Finance, LP

This is the new normal for front end rates as the market tries to figure out whether the Fed will actually be able to follow through on its aggressive hawkish pivot.
But it appears the long end of the curve has finally gotten the memo. The 10yr Treasury, relatively sedate for much of the last four months, is finally reacting in similar fashion to the front end. From Tuesday to Wednesday to Thursday, the 10T fell 20bps, then jumped back up 20bps.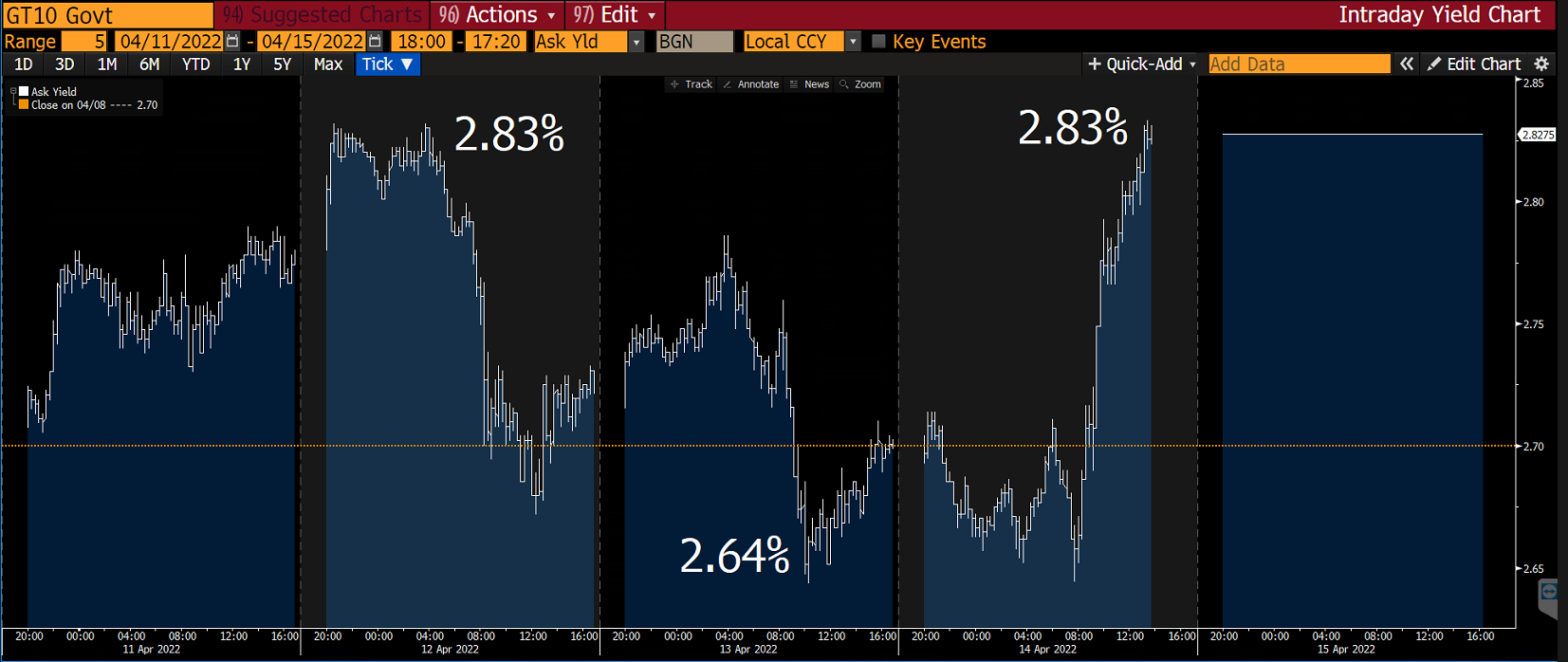 Source: Bloomberg Finance, LP

If the front end of the curve is grappling with the path of FOMC monetary policy, the long end is grappling with the impact of these decisions. Elevated and persistent inflation, slowing growth, developing markets vs emerging markets, Ukraine, commodity prices, etc. I have been surprised at how benign 10yr rates have been until recently, and now that it has woken up, don't envision a calming any time soon.

Trying to figure all this out is exactly why the market has trust issues right now.


Week Ahead

Leading Economic Indicators as well as Initial and Continuing Jobless Claims will be the primary headlines this week, but we also get the release of the Beige Book from the Fed as well as a plethora of Housing Data.

But keep an eye on Fed-speak as officials use their last week to lock in expectations for the May 4th meeting.