Time to Consider a Swaption?
At the conclusion of the December meeting, the Fed announced it will double its pace of tapering asset purchases to $30B/month suggesting they will conclude that process around March 2022. In the updated summary of economic projections, the median Fed Funds forecast was 0.9% in 2022 and 1.6% in 2023, a projected three rate hikes each year. Long-term Fed Funds remained unchanged at 2.5%. For more takeaways from the Fed meeting, check out our post meeting update.
We'll get right to the point: If you're worried about longer term rates spiking, or you have a rate lock in the future, you could hedge that today using a swaption. In short, you purchase the right to pay a fixed rate at some point in the future, in exchange for an upfront premium. Higher strike swaptions are cheaper (and vice versa). We've outlined some generic pricing below to help provide context.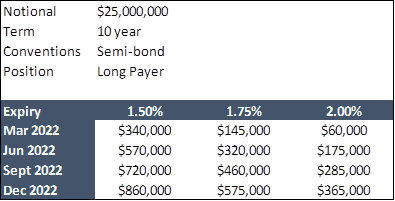 If you'd like to discuss swaptions or other hedging strategies, feel free to contact us at pensfordteam@pensford.com or 704-887-9880.