"We Did Consider a Pause" – Jay Money
The FOMC unanimously voted to hike Fed Funds by 0.25% today but signaled the potential end to the tightening cycle. The statement changed the language from "ongoing increases" to "additional policy firming may be appropriate." These changes, coupled with the blue dots, suggest one more hike on May 3rd and then a pause through year end.
Powell spent considerable time discussing the anticipated tightening of credit conditions as the result of the recent banking crisis. The Fed believes this tightening will mimic the effect of rate hikes, suggesting they can level off sooner than they would have otherwise. Powell also said that financial conditions seem to have tightened and likely by more than the traditional indices suggest.
Powell was asked about whether the Fed considered a pause, and he said, "We did consider a pause."
The 2 Year Treasury in the moments after Powell made that comment.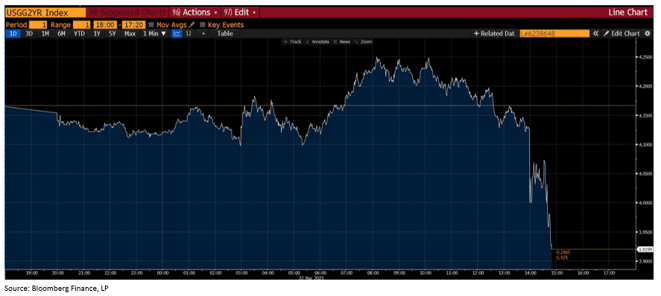 So if they hike on May 3rd and pause, they will start cutting soon, right? Powell disagreed, saying, "Participants don't see rate cuts this year." The 2T rebounded 10bps after he said that. You still want to be a trader?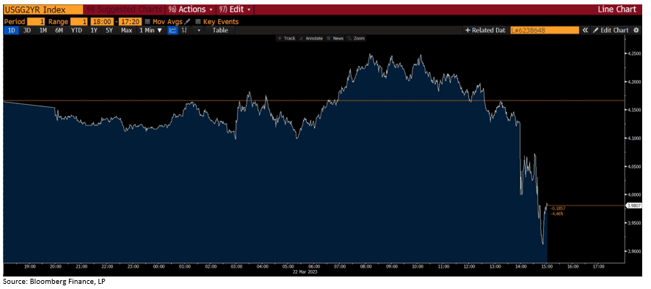 My Takeaway
Odds of a hike on May 3rd are a coin toss, which I think Powell would consider a big win from today's meeting.
In reality, I would put the odds of another hike lower than that. Talking about a pause is like an NFL player talking about retirement. Once you start talking about it, you need to do it. You're already looking ahead to the next phase and your mind isn't in the present anymore. That's when you get steamrolled.
I think there is a greater than 50% chance today was the last hike of the tightening cycle, but the Fed would disagree. Seven members see at least two more hikes. Powell did reiterate a commitment to driving down inflation, saying, "If we need to raise rates higher, we will."
Markets have a 78% probability that Fed Funds finishes this year at or below 4.50%.
Powell's emphasis on the increased risk of a credit crunch should not be overlooked. The Fed is worried that lending will dry up even more and accelerate the slowdown.
Cap Liquidity Update
Final impact of today's meeting TBD, but pricing is moving lower with the fall in rates after Powell's presser, which wasn't happening last week when volatility spiked and completely offset the drop in rates.
Dealer prices are starting to converge after spending last week all over the map.
Compared to the past few days, volatility is improving but still far from where things were before SVB.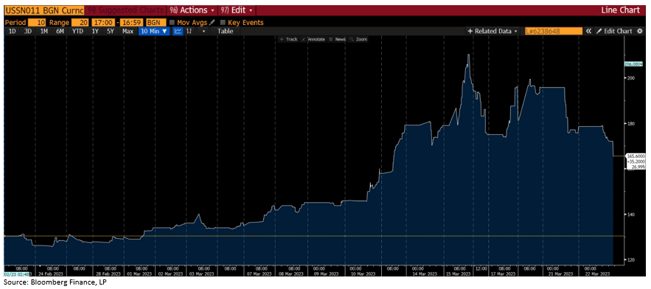 Rate Movements
2T down 24bps to 3.94%
10T down 17bps to 3.44%